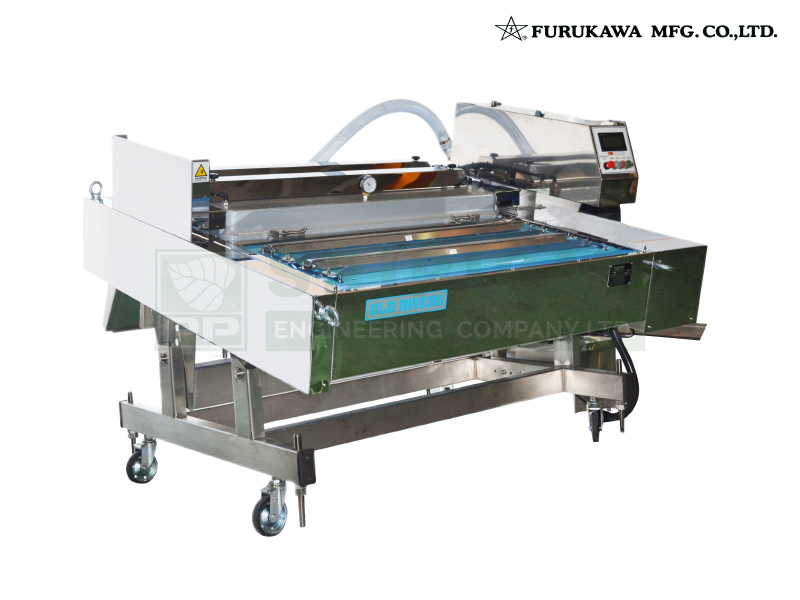 Belt Type Vacuum Packaging Machine
Model: FVB-U9II
Photo: Model FVB-U9II-500
Main features:
Suitable for high vacuum packaging for a wide variety of products such as solids or paste or liquid containing products.
Conveyor belt can be adjustable up to 26 degrees, depending on the product nature.
Advanced touch panel can be memorized max. 10 product data.
Impulse seal ensures reliable seal.
Applications:
Pickles, fresh and processed meats, frozen foods, industrial product etc.
Belt Type Vacuum Packaging Machine

Model: FVB-U9II

Main Specification (Standard Specification)

Model

Output

Max.

Bag Length

Chamber Size

(W x L x H)

Seal Size

(W x L)

Machine Size

(W x L x H)

Machine Weight

FVB-U9Ⅱ-400

2 - 4 PPM

345 mm

1,200 x 400 x 80 mm

10 x 1,090 mm

1,819 x

1,679 x 1,241 mm

540 kg

FVB-U9Ⅱ-500

435 mm

1,200 x 492 x 91 mm

540 kg

Power Source: 3 ph, AC 200V~460V, 50/60 Hz Machine Proper: 3.3 kW

Vacuum Pump (R5A-0160D): 5.5 kW

Required cooling water is 3 lt./min. for machine proper

110mm height chamber is also available for FVB-U9II-400 & -500.
Output depends on products nature and/or vacuum pump.
Vacuum pump R5A-0250D (7.5 kW) is recommended for higher production.
Step-down transformer is available to meet electrical utilities on each country or plant.

Issued on October 5, 2007.
Machine model and each specification described in this document may change without notice.
Photos shown in this document may have some different from actual products in appearance.
The casters are option.
To check machine size, updated outline drawing should be referred.

Please access to our web site.

http://www.furukawa-mfg.co.jp/

Furukawa Mfg. Co., Ltd.

Hiroshima General Headquarters & Plant

(Overseas Department)

200-65, Obara, Nutanishi-Cho, Mihara-Shi

Hiroshima-Ken 729-0492 Japan

Tel: 0848-86-5853 Fax: 0848-86-6350
PHOTO : JUST FOR REFERENCE ONLY, ACTUAL CAN BE DIFFERENCE
DUE TOTECHNICAL IMPROVEMENT
VACUUM PACKAGING MACHINE (BELT TYPE)
MODEL FB-400
SPECIFICATION :-
- MAIN FRAME : SUS304
- BLUE BELT : PU
- SEAL WIDTH : 10 MM.
- SEAL LENGTH : 110 MM.
- VACUUM PUMP : "BUSCH" R5-250D OR EQUIVALENT
- BAG LENGTH : 350 MM. (MAX.)
- SPEED : 3 – 4 CYCLE/MIN.
- POWER : 220/380V., 50HZ.,3PH.
- COOLING WATER : 3 L/MIN. (DEPEND ON PRODUCT)
หากสนใจเครื่อง
ฝากชื่อ อีเมลล์ เบอร์โทร หรือข้อมูลติดต่อไว้ด้านล่างได้เลยค่ะ